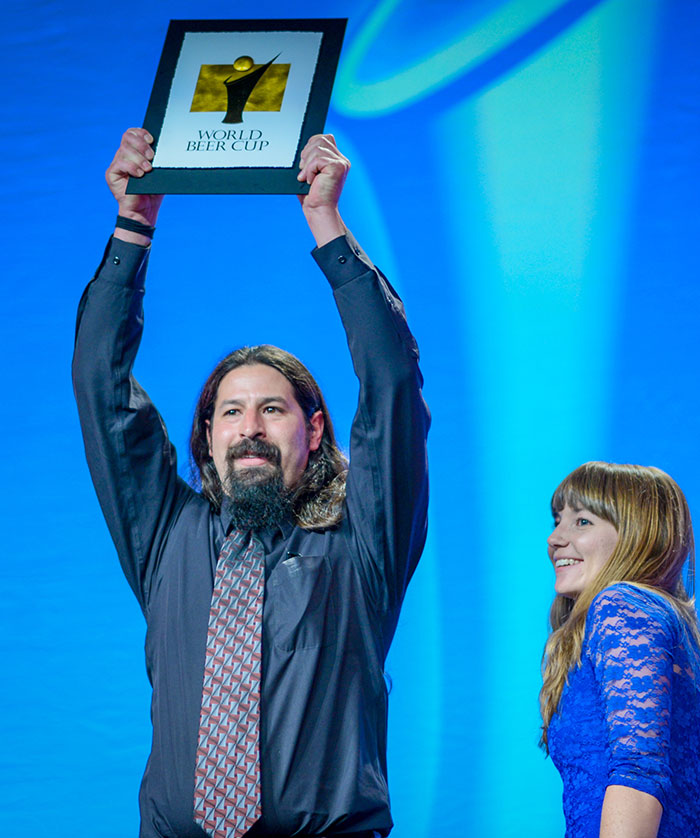 2018 World Beer Cup Beer category styles are listed below.
Use the 2018 World Beer Cup Competition Style List, Description & Specifications to help decide which category styles are the best fit for your entries.
For information on the Champion Brewery categories of the World Beer Cup, please visit the Champion Brewery Awards.
Hybrid/Mixed Beer Styles
1. American-Style Wheat Beer

a. Light American Wheat Beer without Yeast
b. Dark American Wheat Beer without Yeast

2. American-Style Wheat Beer with Yeast

a. Light American Wheat Beer with Yeast
b. Dark American Wheat Beer with Yeast

3. Fruit Beer
4. Fruit Wheat Beer
5. Belgian-Style Fruit Beer
6. Pumpkin Beer

a. Pumpkin/Squash Beer
b. Pumpkin Spice Beer

7. Field Beer
8. Chili Beer
9. Herb and Spice Beer
10. Chocolate Beer
11. Coffee Beer
12. Coffee Stout or Porter
13. Specialty Beer
14. Rye Beer

a. Rye Beer
b. German-Style Rye Ale

15. Honey Beer
16. Session Beer
17. Session India Pale Ale
18. Other Strong Beer

a. Other Strong Beer
b. American-Style Imperial Porter
c. American-Style Wheat Wine Ale
d. American-Style Ice Lager
e. American-Style Malt Liquor

19. Experimental Beer

a. Experimental Beer
b. Ginjo Beer or Sake-Yeast Beer
c. Wild Beer

20. Fresh or Wet Hop Ale
21. Historical Beer

a. Historical Beer
b. American-Style Pilsener
c. Dutch-Style Kuyt Beer
d. Adambier
e. Grodziskie
f. Finnish-Style Sahti
g. Swedish-Style Gotlandsdricke
h. Breslau-Style Pale Schoeps
i. Breslau-Style Dark Schoeps

22. Gluten-Free Beer
23. American-Belgo-Style Ale

a. Pale American-Belgo-Style Ale
b. Dark American-Belgo-Style Ale

24. American-Style Sour Ale

a. American-Style Sour Ale
b. Fruited American Sour Ale

25. Brett Beer
26. Mixed Culture Brett Beer
27. Wood- and Barrel-Aged Beer

a. Wood- and Barrel-Aged Pale to Amber Beer
b. Wood- and Barrel-Aged Dark Beer

28. Wood- and Barrel-Aged Strong Beer
29. Wood- and Barrel-Aged Strong Stout
30. Wood- and Barrel-Aged Sour Beer
31. Fruited Wood- and Barrel-Aged Sour Beer
32. Aged Beer
33. Kellerbier or Zwickelbier

a. Unfiltered German-Style Ale
b. Unfiltered German-Style Lager

34. Smoke Beer

a. Bamberg-Style Weiss Rauchbier
b. Bamberg-Style Helles Rauchbier
c. Bamberg-Style Maerzen Rauchbier
d. Bamberg-Style Bock Rauchbier
e. Smoke Porter
f. Other Smoke Beer
Lager Beer Styles
Styles of Other Origin
35. Light Lager

a. German-Style Leichtbier
b. Australasian, Latin American or Tropical-Style Light Lager
c. American-Style Light Lager

36.International-Style Pilsener
37. Other International-Style Lager
Styles of European and German Origin
38. Baltic-Style Porter
39. German-Style Pilsener
40. Bohemian-Style Pilsener
41. Munich-Style Helles
42. Dortmunder/Export or German-Style Oktoberfest

a. Dortmunder/European-Style Export
b. German-Style Oktoberfest/Wiesn

43. Vienna-Style Lager
44. German-Style Maerzen
45. Munich-Style Dunkel or European-Style Dark Lager

a. Munich-Style Dunkel
b. European-Style Dark Lager

46. Dark Lager

a. American-Style Dark Lager
b. German-Style Schwarzbier

47. German-Style Bock or Maibock

a. Traditional German-Style Bock
b. German-Style Heller Bock/Maibock

48. German-Style Doppelbock or Eisbock

a. German-Style Doppelbock
b. German-Style Eisbock
Styles of North American Origin
49. American-Style Lager or American-Style Cream Ale

a. American-Style Lager
b. American-Style Cream Ale

50. American-Style Amber Lager

a. American-Style Amber Lager
b. California Common Beer
c. American-Style Maerzen/Oktoberfest
Ale Beer Styles
Styles of Other Origin
48. Australian-Style Pale Ale or International-Style Pale Ale

a. Australian-Style Pale Ale
b. International-Style Pale Ale
Styles of German Origin
52. German-Style Koelsch
53. German-Style Altbier
54. Berliner-Style Weisse
55. Leipzig-Style Gose or Contemporary Gose

a. Leipzig-Style Gose
b. Contemporary Gose

56. South German-Style Hefeweizen
57. German-Style Wheat Ale

a. South German-Style Kristal Weizen
b. German-Style Leichtes Weizen
c. South German-Style Bernsteinfarbenes Weizen
d. South German-Style Dunkel Weizen

58. South German-Style Weizenbock
Styles of Belgian and French Origin
59. Belgian-Style Witbier
60. Classic Saison
61. Specialty Saison
62. Belgian- and French-Style Ale

a. French-Style Biere de Garde
b. Other Belgian- and French-Style Ale

63. Belgian-Style Pale Ale or Belgian-Style Blonde Ale

a. Belgian-Style Pale Ale
b. Belgian-Style Blonde Ale

64. Belgian-Style Sour Ale

a. Belgian-Style Lambic
b. Belgian-Style Gueuze Lambic
c. Belgian-Style Fruit Lambic
d. Other Belgian-Style Sour Ale

65. Belgian-Style Flanders Oud Bruin or Oud Red Ale
66. Belgian-Style Dubbel or Belgian-Style Quadrupel

a. Belgian-Style Dubbel
b. Belgian-Style Quadrupel

67. Belgian-Style Tripel
68. Belgian-Style Pale Strong Ale
69. Belgian-Style Dark Strong Ale70. Other Belgian-Style Ale

a. Other Belgian-Style Abbey Ale
b. Other Belgian-Style Strong Specialty Ale
c. Belgian-Style Table Beer
d. Other Belgian-Style Ale
Styles of British Origin
71. English-Style Mild Ale

a. English-Style Pale Mild Ale
b. English-Style Dark Mild Ale

72. English-Style Summer Ale
73. Ordinary or Special Bitter

a. Ordinary Bitter
b. Special Bitter or Best Bitter

74. Classic English-Style Pale Ale
75. Extra Special Bitter

a. American-Style Extra Special Bitter
b. English-Style Extra Special Bitter

76. English-Style India Pale Ale
77. Scottish-Style Ale

a. Scottish-Style Light Ale
b. Scottish-Style Heavy Ale
c. Scottish-Style Export Ale

78. English-Style Brown Ale
79. Brown Porter
80. Robust Porter
81. Sweet Stout or Cream Stout
82. Oatmeal Stout
83. Scotch Ale

a. Traditional Scotch Ale
b. Peated Scotch Ale

84. British-Style Imperial Stout
85. Old Ale or Strong Ale
86. Barley Wine-Style Ale

a. American-Style Barley Wine Ale
b. British-Style Barley Wine Ale
Styles of Irish Origin
87. Irish-Style Red Ale
88. Classic Irish-Style Dry Stout
89. Export Stout
Styles of North American Origin
90. Golden or Blonde Ale
91. American-Style Pale Ale
92. American-Style Strong Pale Ale
93. American-Style India Pale Ale
94. Imperial India Pale Ale
95. American-Style Amber/Red Ale
96. Double Red Ale
97. Imperial Red Ale
98. American-Style Brown Ale
99. American-Style Black Ale
100. American-Style Stout
101. American-Style Imperial Stout